Even if you're in a long term relationship, playing an adult truth or dare game with your lover is a great way to explore each other's desires and come up with fresh new sex ideas to try out. A game setting also helps to relieve any anxiety about bringing up certain types of sexual topics (everyone has at least a few secret desires kept hidden). As the game heats up and you've asked each other all the basic sex questions, you'll naturally want to get more explicit and dirty.
But there's a problem. If you're trying to spice up your lovemaking and get out of your sexual comfort zone, it can be hard to come up with interesting sex questions to ask. You may even think you know each other so well already. This is a trap lots of couples fall into that can ruin your sex life. What you need is a way to inspire your own erotic creativity with a variety of sexual topics and ideas that you would not normally consider.
You also want good sex questions that arouse your interest and desire for even better sex. Dirty truth questions should encourage you to explore topics that may make you feel uncomfortable or even embarrassed but in a good way. Exploring inhibitions and taboo subjects can help make sex feel naughty and thrilling again.
If you want to spice up your love life, take a look at this video overview of a dirty truth or dare app for couples. The app has over 3000 fun sex questions and dirty dares to give you lots of variety to play with. It can be played by couples alone together or with a group of intimate friends. When another couple or two are playing together with you, there are preference options available to keep the sexy truth questions and dirty dares between couples or mix it up.
Click on the link for more details: Dirty Truth or Dare App
The app is available for iPhone, iPad and Apple TV.
Playing dirty truth or dare with a small group of friends is a great way to test out the possibility of a threesome or more-some. There are even gay, lesbian and bi-sexual options to suit any and all preferences. Try the game and see how far you're both willing to get out of your sexual comfort zones.
Available Now!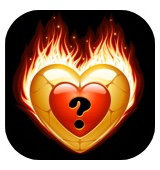 Spicy Dares & Desires
on the iPhone, iPad, Apple TV.
Download your copy today
.
Challenge your partner to spice up your sex life today. Get the app right now and see what kinds of naughty sex play you're willing to try tonight.